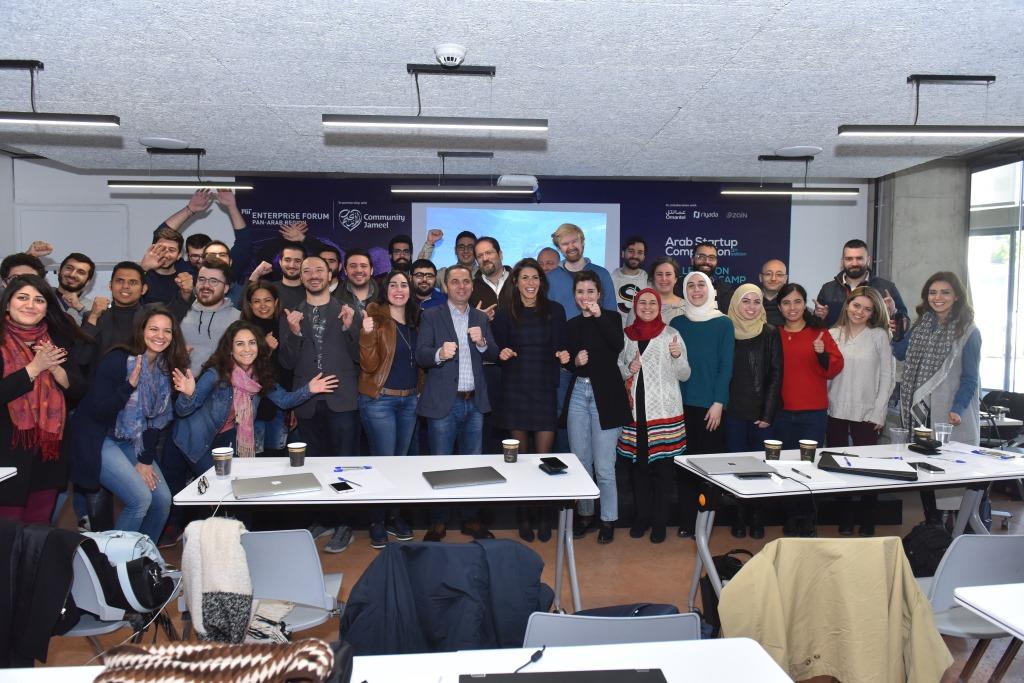 touch hosts boot-camp for 20 Lebanese teams qualified for finals of 11th MIT Enterprise Forum Arab Startup Competition
Gurkan: "Fostering innovation and youth development is a key strategic initiative for touch"
•
84 teams from 14 Arab countries qualify for the finals
•
Prize money exceeds US$160,000; final award ceremony to take place in Oman 19 April
Beirut – 13 February 2018: A record twenty teams from Lebanon have qualified for the finals of the 11th annual MIT Arab Startup Competition, organized by the MIT Enterprise Forum (MIT EF) of the Pan Arab Region. The finals of the MITEF Arab startup competition, held in partnership with Community Jameel and Zain Group as the competition's digital partner, will be held in Oman on April 19.
As part of the Arab startup competition, MITEF Pan Arab in partnership with touch, Lebanon's leading mobile telecommunications and data operator, hosted a pre-finals boot camp for the 20 entrepreneur teams from Lebanon who have made it to this year's semi-finals. The boot camp recently took place at Beirut Digital District with the participants receiving coaching and top tier training to equip them with the tools and skills needed to succeed in the finals.
This year's competition garnered significant interest across the region, with more than 5,300 applications, including Saudi Arabia, which runs a parallel competition. Submitted projects came from a variety of sectors including internet services, software, education, healthcare and creative industries.
Semi-finalists hailed from 14 Arab countries, as follows: Lebanon (20), Egypt (14), the United Arab Emirates (10), Saudi Arabia (9), Jordan (7), Palestine (6), Morocco (4), Tunisia (6), Bahrain (2), Sudan (2), Kuwait (1), Qatar (1), Algeria (1), Oman (1).
As in previous years, the competition includes three tracks - the Ideas track, the Startup track, and the Social Entrepreneurship track, with 26, 34 and 24 semi-finalist projects respectively in each category. Each project includes a team of at least three participants bringing the number of Arab entrepreneurs congregating in Oman in April to over 200.
All 84 teams will participate in pre-finals boot camps in February and March in Jordan, Lebanon, Egypt, and the United Arab Emirates. Nine winning teams from the MIT EF Saudi Competition will be announced in March and will be part of the list of the Pan Arab semi-finalists. For a complete list of semi-finalists and more information, visit: www.mitarabcompetition.com
This year's edition is yet another annual competition that celebrates Arab innovators, who see it as a platform to showcase, test and develop their creative ideas and skills. Cash prizes exceeding US$ 160,000 will be distributed to the nine deserving winners, three per track. Beyond the cash prizes, all 84 semi-finalists will benefit from advanced training sessions, personal mentorship and guidance, as well as media visibility, and excellent networking opportunities.
Expressing his enthusiasm about the qualification of the 20 teams from Lebanon, a record in the competition's history, Mr. Emre Gurkan, Chief Executive Officer of touch, said, "We congratulate all the talented teams from Lebanon that have qualified and we look forward to tracking their progress. Over the years both Zain Group and touch have reinforced our belief in the youth of our region, and displayed our passion for offering them the opportunities to attain their goals. We look forward to seeing the face of innovation being revealed throughout the course of the competition and shall take the opportunity to capitalize on the most promising ideas. Supporting such events perfectly aligns to and supports both Zain Group's and touch's strategic digital lifestyle aspirations."
Gurkan continued, "Our partnership with MITEF Pan Arab is aligned with our own Corporate Sustainability program, Positive touch. This competition has become an established platform to foster innovation and youth development, and we are proud to be associated with the MIT Enterprise Forum, one of the leading NGOs in the world of business, entrepreneurship, and innovation."
Hala Fadel, Chair of the board of MIT EF Pan Arab commented, "Every year, our confidence and belief in the importance of this competition grows in its role supporting the culture of entrepreneurship. Developing the ideas and projects of the Arab youth and empowering them to transform these pioneering ideas into success stories couldn't make us prouder."
Fady Jameel, President of Community Jameel International, commented on the semifinals saying: "We are happy to give the opportunity for innovation and creativity across the Arab world. We see new promising business models each year, all coming from diverse backgrounds. This reinforces the fact that the Arab world is full of talent and creativity. Community Jameel has offered full support to this successful Arab event for 11 consecutive years now, and remains true to its commitment to see it through. As it has been the case in previous years, our strong belief in this competition continues, as we strive to encourage an environment where new ideas flourish and projects are implemented not only in the Arab region but internationally. The generation of young Arabs deserves our full support to realize their hopes and bring their aspirations to life."
The MIT Arab Startup Competition will culminate in a two-day event on April 18 and 19, 2018 in Oman, with the announcement of this year's winners, set to take place during the final award ceremony. For more information on this year's MIT Enterprise Forum Arab Startup Competition, visit www.mitarabcompetition.com.
Attachments