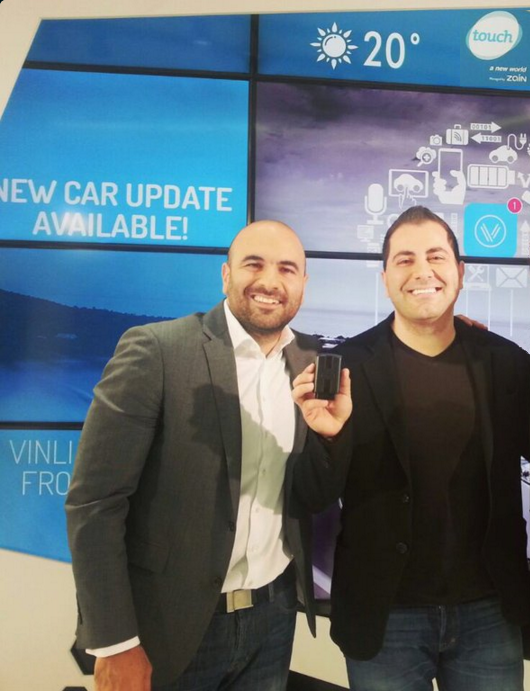 Beirut, May 4, 2016: Inspired by its drive for innovation, touch, the leading mobile telecommunications and data operator in Lebanon, managed by Zain Group, a leading telecom innovator in eight markets across the Middle East and Africa, is bringing an advanced connected car solution to Lebanon this summer in collaboration with Vinli, the world's first open platform for connected car apps. This partnership will bring in-car Wi-Fi, cloud-based connected car apps, and advanced safety services to vehicles in Lebanon today.

While most smart car solutions are built into premium new models, touch's offering with Vinli is simple: an adapter that plugs into virtually any vehicle's OBD-II port to connect existing cars to 4.5G Advanced high-speed internet plus safety and entertainment apps from Vinli and third-party partners and app developers. By utilizing touch's connectivity and local expertise, Vinli's open platform will create an ever-changing connected car experience that evolves along with the needs of the Lebanese consumers who can now enjoy an endless choice of apps such as car diagnostics, vehicle tracking, driver monitoring, maintenance reminders, road side assistance and much more.

Commenting on this project, the Chief Commercial Officer at touch Mr. Nadim Khater said, " We are enthusiastic about entering the world of IoT (Internet of Things) through a connected car premier. No doubt, Vinli is the right partner for us in this space to build a proven value proposition that solves a problem and is relevant to our market and customers. This solution also addresses the B2B segment since many car dealerships expressed interest in this device as well as other Lebanese companies interested in developing apps for Vinli through leveraging its open ecosystem".

"We're about empowering people by bringing high-speed connectivity and smart-car apps to the cars they're driving today," said Mark Haidar, Chief Executive Officer at Vinli. "When we started our international expansion, we were really impressed with touch Lebanon's shared commitment to bridge the gap between the smartphone and the smart car. And we've been even more impressed with the gratifying response from the Lebanese market. Right away, people were talking about lining up early to get their hands on one."

By partnering with Vinli, touch continues to live up to its track record of innovative and successful services. It aspires to ensure that the Lebanese consumer is getting the best in the world of telecommunications technology, and that the telecommunications sector is continuously evolving to meet international standards.
Attachments