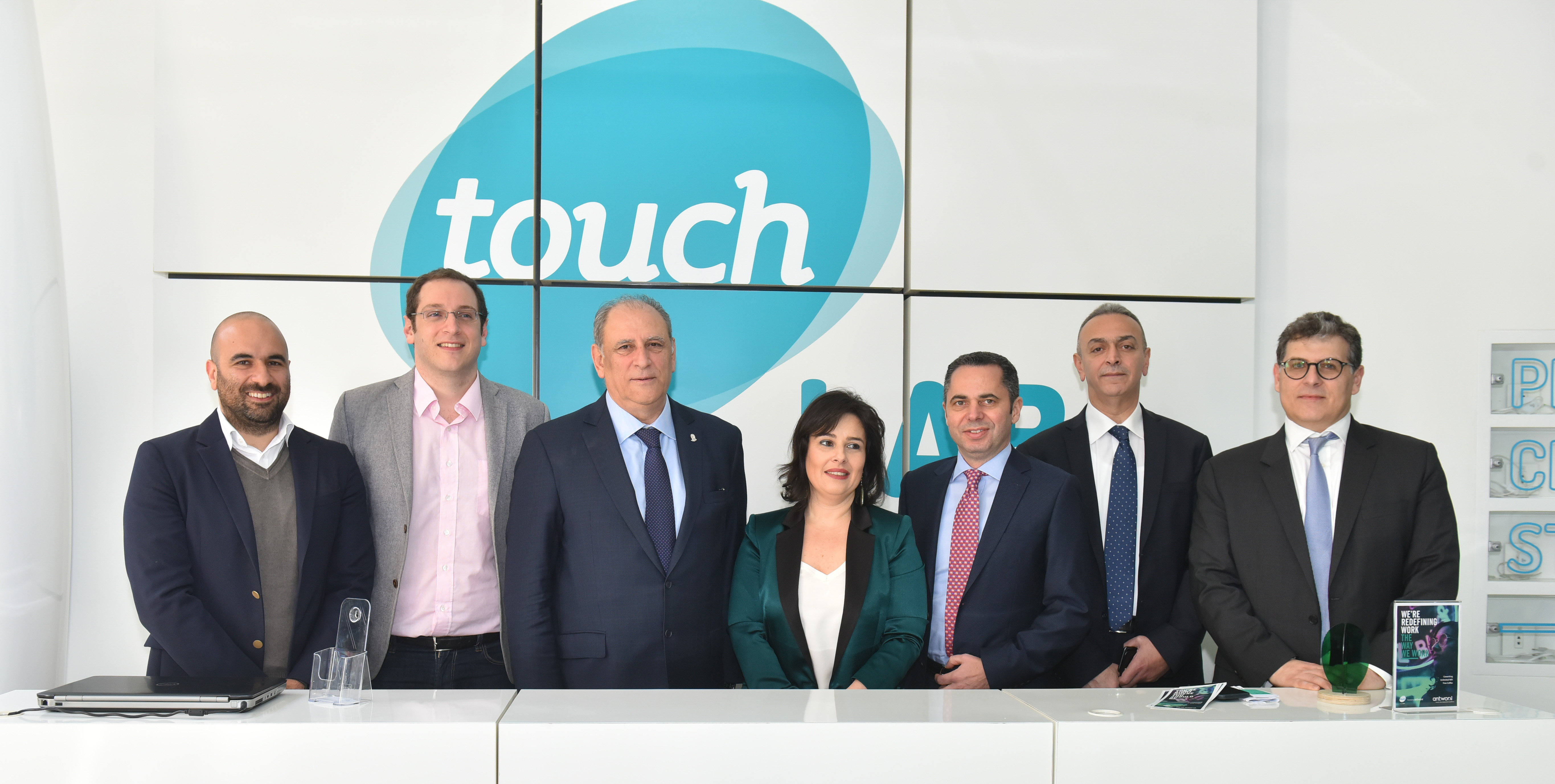 touch doubles up on partnerships – working with Antwork to develop co-working space and with ArabNet to launch the "touch Innovation Program" (TIP)
TIP is an innovative platform to empower rising Lebanese entrepreneurs
Beirut, February 1, 2018: touch, the leading mobile telecommunications and data operator in Lebanon, managed by Zain Group, announced the launch of the "touch Innovation Program" (TIP) in partnership with ArabNet, at an event on January 30 hosted at the touch Lab, under the patronage and in the presence of the Minister of Telecommunications, H.E. Jamal Jarrah.
In parallel, touch unveiled a partnership with Antwork, a hub for the independent workforce, through which Antwork contributed to the custom development of a co-working space at the touch LAB. The event was attended by startups, digital innovators, entrepreneurs, media and influencers.
Antwork will activate the storefront window to showcase innovations from TechStartups, ensuring optimum visibility of the workspace. Antwork also integrated a demo area to facilitate app developers extending invitations to users to view and test their products.
ArabNet is renowned for supporting new ideas, businesses, and job creation for young people and so the TIP initiative is expected to leverage greater expertise exchange in the digital field. The aim of TIP is to engage and support the local digital economy in areas of innovation and entrepreneurship through collaborating with startups and the identification of potential partners.
touch innovators will also have access to touch LAB's workspace serving as a platform for entrepreneurs wishing to take their startup ideas to the next level. touch innovators can benefit from Antwork's offerings for entrepreneurs and enjoy unlimited free access to their basement workshop space, and use of the co-working space. This will offer entrepreneurs a chance to be a part of a wider community of entrepreneurs and innovators through various workshops and mentorships.
It is planned that every six months, TIP will identify and select 4-6 promising entrepreneurs who will then have access to touch LAB as a working space for meetings, products and services launches, and to host workshops.
The Minister of Telecommunications Jamal Jarrah stated during the ceremony, "For a long time, we have worked in finding ways to help our youth achieve a promising future, and benefit from their potential. Hence, the idea of establishing a fund to help and support these individuals. When touch encouraged us with the idea to benefit from touch Lab to support the youth, we quickly agreed, as this would provide a network dedicated to supporting them from the beginning of their journey until they reach their safe harbor". Jarrah added, "When we discussed the idea with Prime Minister Saad Hariri on the role of the youth, we found several solutions to help develop their projects, thus securing job opportunities for them to stay in Lebanon and benefit their country through their creativity. In fact, because our human capital is Lebanon's most important asset, we should try to transform them into innovators for the progress of our economy. We have to be part of the great development of the digital economy, hand in hand with the youth. In the end, this partnership between touch, Antwork, and ArabNet will help us take a step forward in this transformational journey".
Emre Gurkan, Chief Executive Officer of touch, commented, "We are really excited to partner with ArabNet for the launch of the "touch Innovation Program" as we share mutual values. The program fits perfectly with touch's digital and innovation strategy. We believe many positive changes are driven by innovations and the youth are a great source of this positivity. TIP will serve as a hub and launch-pad for progressive thinkers."
Gurkan continued, "touch's partnership with Antwork will support touch LAB's mission to serve as an ideal and productive professional space where entrepreneurs can gain access to a like-minded community of professionals and resources, and ultimately bringing ideas to life."
Omar Christidis, ArabNet Founder & CEO said, "Innovation is a strong candidate to be the next driver of the Lebanese economy. There is a window of opportunity now for the country to build on the momentum it has already gathered, reignite its economy and compete regionally and globally - by investing in innovation as the new driver of economic development. We're excited to collaborate with touch to support progressive startups in Lebanon to scale and gain access to new customers and opportunities."
Zina Dajani, Founder and CEO of Antwork said, "Antwork looks at space as an opportunity to attract the dynamic workforce of today, nurture the collaborative work culture and foster innovation in an environment that was created exactly for that purpose! You can now find a calm, well-equipped space right in the middle of the commercial bustling downtown of Beirut."
Candidates interested in the TIP program can visit tip.touch.com.lb for more details.
Attachments