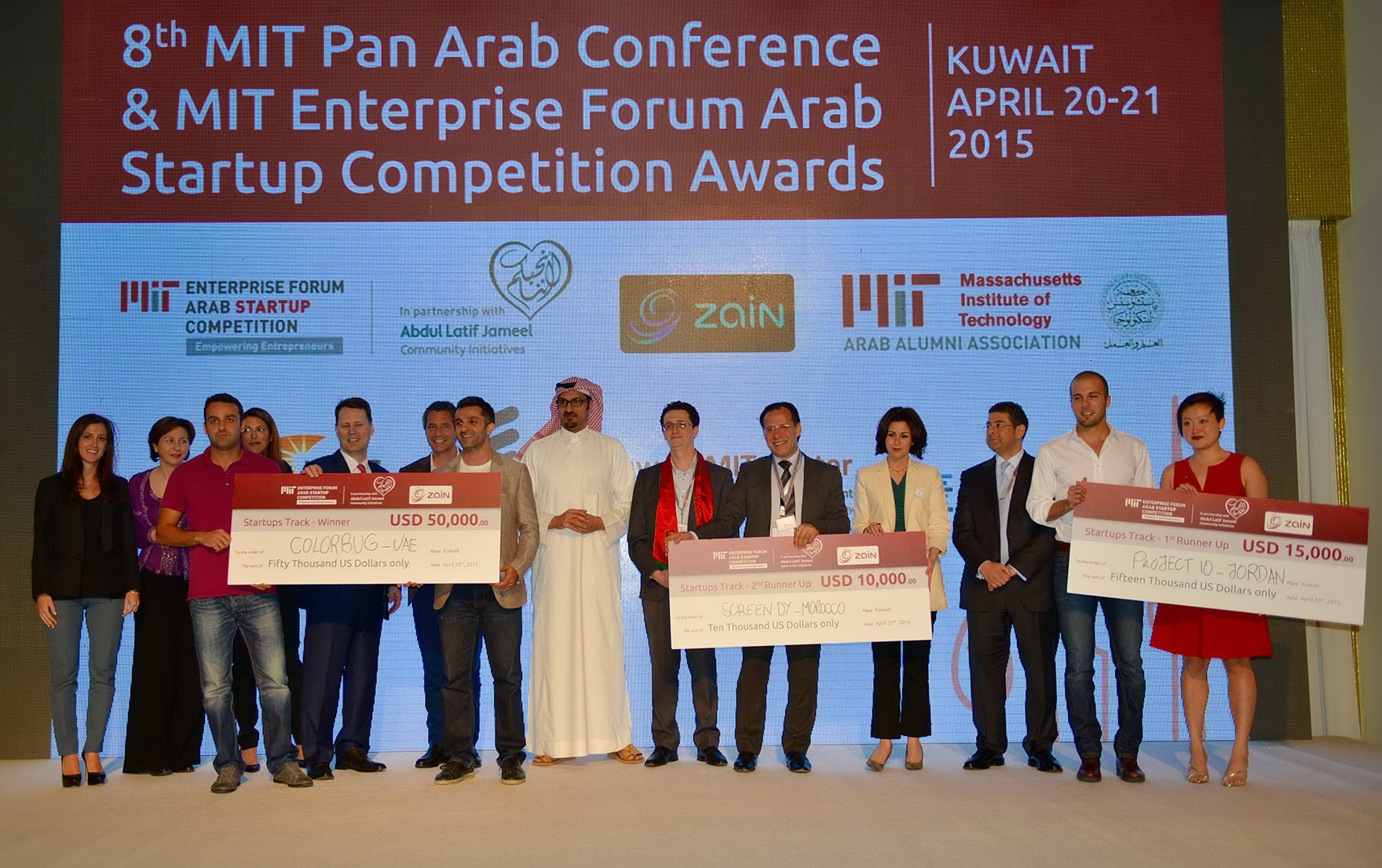 Beirut April 13, 2016: Eight teams from Lebanon have qualified for the final stages of the MIT Enterprise Forum Arab Startup Competition 2016 for the best business startups in the Arab World. A total of 76 competing teams from 15 Arab countries have reached the semi-final stage of the MIT Enterprise Forum Arab Startup Competition (MITEF). The Competition is organized in partnership with Community Jameel, the Social Enterprise arm of Abdul Latif Jameel, Zain Group, a leading mobile telecom innovator across the Middle East and Africa and the Lebanese telecom operator touch. The participating Lebanese teams were distinguished through their creative projects and ideas.This achievement emphasizes that Lebanese talents are pioneers in providing technological solutions and innovative applications.

The Lebanese semi-finalists participated in the Competition's three tracks – Startup, Ideas and Social Entrepreneurship. Under the Idea track, three Lebanese teams qualified. The first team is Lebanese/Syrian and consists of Yasser El Sabbouh and Nebras Salman for their project Kalimati. It offers a solution for deaf people in the Arab world by developing a software that detects deaf hands movements using sensors (Leap Motion). The second group consists of Hisham Moussa Daou and Joanna Rozum for their project SIS. The project addresses the problem of inventory management, which is considered an important issue for any business venture. SIS is an ecosystem and considered the new lifestyle of the 2020 consumer. Connected hardware is combined with sophisticated software to provide an ultimate experience. The third group consists of Joe Hawthorn and Ramzi Nohra for their Sympaticus project, which is an online wellness and psychotherapy platform for all emotionally challenged, anxious and possibly depressed women who are dissatisfied with their emotional wellbeing in the Middle East and North Africa.

As for the startups track, another three Lebanese teams qualified. The first team consists of Danny Saad Eddin and Lamis El Zein for their project BUSINESS Smith, a probabilistic modeling system based on multiple criteria decision-making which includes more than 90 scenario. It aims to improve the quality of idea generation and the timing of innovation commercialization. The second group is comprised of Stefano Fallaha and Emad Yahya for their project Fallound, a platform that gathers audio notes, plays them to users based on their preferences and allows them to control their timeline via voice commands. The third groups consists of Ramzi Jamil and Ziad Alame for their project Spoke, a platform for social networking that is based on "voice" or sound, which is the fastest way to understand the personality of an individual as well as their psychological and emotional condition.

In the Social Entrepreneurship track, two Lebanese teams qualified. The first team consists of Elie Abou Saab and Zeina Chacar for their project Jouwar, which is an interactive online platform that allows users to report road hazards that they face so that the government can redirect the responsibility to the relevant municipalities. The second group consists of Moualla Al Ilani and Mohammad Bakri for their project Pathfinder, which is a fully automated visual aid and navigation system running in parallel via a sensor-fitted belt, connected to a cloud based mobile that is supported by the World Wide Web.

Commenting on the eight semi-finalist teams from Lebanon, the Chief Executive Officer at touch Peter Kaliaropoulos said:"We are proud of the Lebanese teams as well as all the Arab teams who brought fourth multiple creative and imaginative ideas and projects. We are confident that these young people will be the main drivers behind the growth of our communities and their development, especially in the field of technology. touch vows to always be on their side given its profound belief in their abilities and its determination to support them in order to transform their ideas into real and successful projects."

Kaliaropoulos also stressed on the importance of the MIT Enterprise Forum Arab Startup Competition (MITEF) which constitutes a great opportunity and platform for Arab youth to share their ideas. It also allows them to take advantage of promising creative projects in the field of digital space technology in the region.

While commenting on this competition, Fady Jameel, President of Community Jameel International said," at Community Jameel, we are committed to enabling the next generation of young entrepreneurs and we will remain focused on creating and enabling an environment in which young entrepreneurs can achieve their aspirations. We are overwhelmed with the quality of participants in this competition and we are confident that this 9th edition will yield promising entrepreneurs who will play an important role in shaping the economy".

The total prize money on offer in excess of US$150,000. Each of the three tracks will award the first three ranked winners with cash prizes in addition to many other benefits including: top tier training, mentorship, coaching, media exposure, and great networking opportunities. The Competition's finalists and ultimate winners are set to be revealed at a gala event to be held at King Abdullah Economic City, Jeddah, Saudi Arabia on 14 April.
Attachments