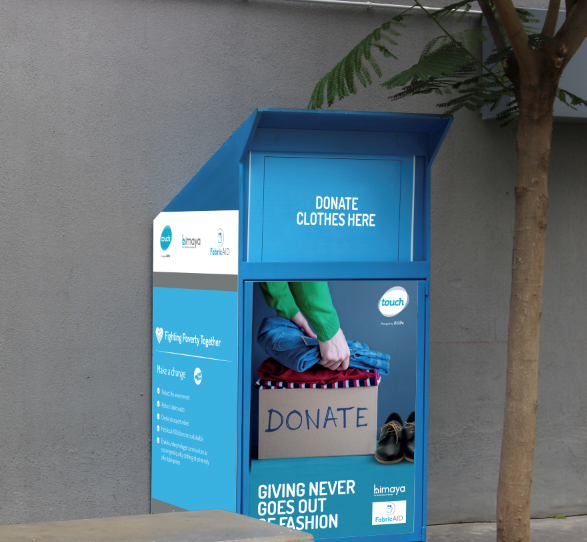 touch and FabricAid introduce smart bins to collect donated clothes.
Beirut – December 21, 2018: touch, the leading mobile telecommunications and data operator in Lebanon, managed by Zain Group, announces its partnership with FabricAid, Lebanese startup social enterprise specialized in second-hand clothing collection and redistribution, which it then donates to underprivileged communities across the country. As part of its ongoing efforts to support startups in Lebanon, touch's partnership with Fabric Aid includes the manufacturing of 25 smart bins to collect old garments from the public.
FabricAid collects second-hand clothing either directly from local non-governmental organizations (NGO) or from businesses, municipalities, and academic institutions through smart collection bins which are among the first to be developed in the world. The bins work without electricity and are equipped with independent smart sensors, providing the central dashboard with the exact GPS location of each bin and the level of clothing inside. The connected dashboard automatically draws collection routes for drivers, increasing operational efficiency.
The reusable clothing items that are collected from the smart bins are sold at very low prices ranging between USD 0.30 and USD 3.00 each. Part of the proceeds acquired from the sale of the garments will be donated to himaya association, dedicated to making child protection a right across Lebanon, aiming to break the silence by offering children the life skills they need to defend themselves. The clothes that can't be sold are recycled and used for pillows and furniture cushions.
This initiative falls in line with the United Nations' Sustainable Development Goal (SDG) number 9, which focuses on the development of Industry, Innovation, and Infrastructure in Lebanon. It also incorporates elements of SDG number 12, which promotes responsible consumption and production, especially with respect to recycling products for use by those in most need, as well as SDG 1, fighting poverty.
Commenting on the cooperation with FabricAid Emre Gurkan, Chief Executive Officer of touch said, "A part of our mission is to support local startups and offer a helping hand to our community through creative and sustainable solutions. touch's support of FabricAid's efforts achieves many of our goals at the same time, not least assisting communities in need across the country. The addition of smart bin technology to make this initiative more efficient and effective is also an area close to our hearts as we firmly believe in investment in innovation to improve the quality of everyday life."
touch oversaw the manufacture and installation of the 25 smart bins across Lebanon. The first bin was installed at touch Head Quarter, enabling employees to donate their old garments. The remainder of the bins will be placed strategically in university campuses and on several company premises.
Omar Itani, General Manager of FabricAid said: "Touch's support is invaluable! It's not only about financially sponsoring the production of the bins but it's also about assistance in marketing and offering us, a young startup social enterprise much needed credibility. Those bins are expected to collect more than 170,000 clothing items in 2019. This immense quantity of clothing will enable us to expand our distribution network to reach thousands of beneficiaries. It's a big leap for the enterprise and for that, we can't thank touch's management team enough. Their trust in us is really motivating yet puts us in front of a big responsibility. We realize this, and we are working really hard not to disappoint."
As for himaya, it also supports survivors of abuse and gives them the psychosocial support they need to overcome their experiences. In order to be as effective as possible, himaya works with children, their families, and surroundings as a whole. It strives to make a change on a national level with the help of its two main programs: the prevention and resilience programs. It covers the entire Lebanese territory with offices in Zahle, Mount Lebanon, North Bekaa, Sidon and Tripoli.
Click
here
for the video.
Attachments