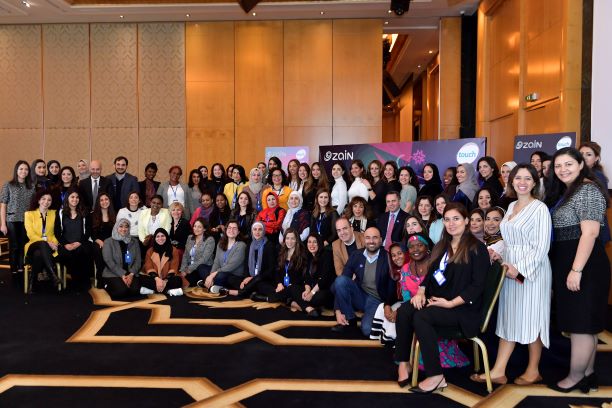 touch co-hosts Zain WE program Workshop in Beirut.
•
Focus on gender diversity and inclusion to develop opportunities for women
•
25% of touch's female employees hold leadership positions
Beirut - February 25, 2019: touch, the leading mobile telecommunications and data operator in Lebanon, managed by Zain Group, took part in the WE program workshop hosted by Zain Group in Lebanon for the first time in February at the Four Seasons Hotel. More than 90 female attendees were present, having come from Zain operations in Bahrain, Iraq, Jordan, Kuwait, Saudi Arabia, Sudan, South Sudan, and strategic partner Omantel to participate in this important initiative.
Zain Group Vice-Chairman and Chief Executive Officer, Mr. Bader Al-Kharafi introduced the WE Program in 2017 that focused on Women Empowerment, given that women accounted for approximately 25% of Zain staff. The program objective has been further developed to promote gender diversity and inclusion, and improve and develop opportunities for women at Zain to experience and grow within their career path and goals.
Touch, in line with Zain Group strategy, has made Gender Diversity and Inclusion at the workplace a priority, and is working on a gender diversity mindset based on four pillars: HR Policy Transformation; Leadership Development; Culture Transformation; and female recruitment. With these goals in mind, a group of Women Ambassadors has been formed to drive the change. Nine females at touch have been selected to become WE Ambassadors. touch ambassadors receive the chance to discuss Zain's vision for promoting women equality in the workforce, as well as planning diversity and sustainable change in the business.
touch Chief Executive Officer, Emre Gurkan commented, "This is an important initiative as it inspires employees and entices them to act and motivate their colleagues. touch is on a promising path towards diversity and inclusion where the total number of female employees currently stands at approximately 38% of all staff – among which 25% hold leadership positions. Close collaboration and diversity in leadership at the workplace enables us to deliver innovative solutions, drive positive results, and strengthen our organization."
The workshop included a Leadership Wheel Assessment to help participants shape their individual development plans, personal strengths and weaknesses, aspirations and self-reflection. Participants then reviewed the 2019 action plans while focusing on embedding the program and initiatives within the organization, supporting women to reach the next level of leadership in their career tracks, and preparing a talent pool of females.
Finally, the workshop focused on skill building by helping female ambassadors understand and further develop their leadership style.
In one year, the WE program has achieved numerous accomplishments where female leadership at Zain Group has risen from 14.5% to 15.5% in one year; female recruitment at Zain across all operations has grown from 21% to 29%; and a total of 90 WE Ambassadors have been tasked with action planning.
In 2019, touch's goal is to support gender diversity in the workplace as this is the key to establishing a competitive advantage that will enable the company to fast-track goals, unlock tremendous growth opportunities, and improve and grow within the sector.
Attachments