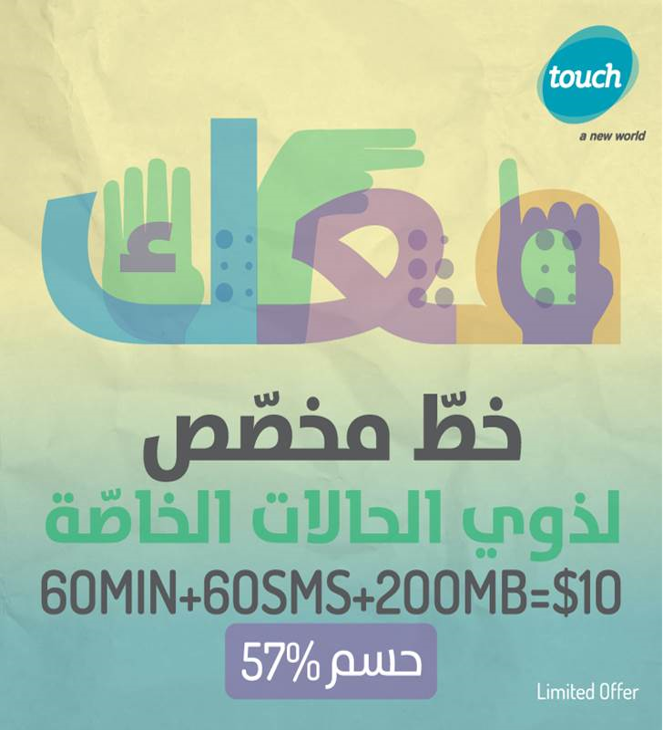 Touch introduces new "Maak" line for customers with special needs for the first time in Lebanon.
Beirut, 19 June 2014: touch, the leading mobile telecommunications operator in Lebanon, managed by Zain, announced the introduction of the new "Maak" offer dedicated to customers with special needs.
The "Maak" offer is a prepaid line, which will only be extended to individuals holding the special needs cards, issued by the Ministry of Social Affairs. The offer provides its holders with 60 minutes of calls, 60 text messages (SMS), and 200 MB of data monthly for $10.
In this regard, Minister of Telecommunications Boutros Harb stated, "The Ministry is contributing to this offer in close coordination with the Ministry of Social Affairs in consolidating fundamental rights of citizens with special needs, as well as identifying the needs of different social groups to promote their integration in the society and provide equal opportunities for all."
Minister of Social Affairs, Rashid Derbas also commented by saying, "We appreciate the role and cooperation of the Ministry of Telecommunications and touch for their exerted efforts towards citizens with special needs. This would increase communication opportunities, and consequently build bonds between citizens, which is the ideal interpretation of policies aimed at achieving social integration in Lebanon".div>
From his side, Mr. Wassim Mansour, Vice Chairman General Manager of touch commented: "The launch- of the new offer 'Maak' is in line with the company's strategy when it comes to Corporate Social Responsibility commitment, and our objective to privilege our customers with special needs, through offers and services that meet their aspirations in terms of mobile telecommunications." Mansour also pointed out that "touch designed a unique program to instill a culture of social responsibility, which is a priority for Zain Group core business".
Customers or their custodians can immediately benefit from the offer "Maak", by proceeding to any touch Customer Service Center and showing their card from the Ministry of Social Affairs, in addition to their Lebanese national ID. Each customer is eligible to acquire only one "Maak" line.