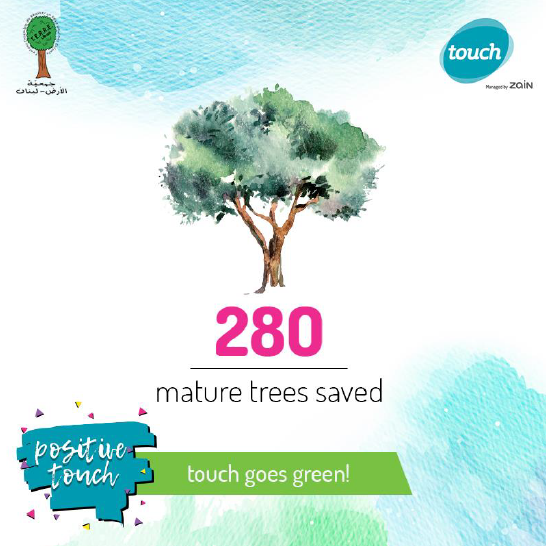 touch Marks Another Successful Year of Waste Management Promoting an eco-friendly culture in partnership with T.E.R.R.E Liban
Beirut, January 24, 2017: Stemming from its Corporate Social Responsibility program "Positive touch", touch, the leading mobile telecommunications provider in Lebanon, managed by Zain Group, has marked yet another year of waste management, which includes both sorting and recycling. In the past year touch recycled a significant quantity of paper, cardboard and wood. This was made possible through a partnership with T.E.R.R.E Liban, an independent Lebanese non-governmental organization devoted to the development and implementation of environmental and waste recycling education within Lebanon.

touch has come a long way in reducing waste within its premises, abiding to international standards of proper waste management. In fact, based on a study done by T.E.R.R.E Liban, touch's waste management has had a significant environmental impact. By recycling over 25 tons of paper, cardboard and wood in the last 2 years, touch saved 280 trees, 2900 liters of oil, 436,000 liters of water, 66,000 kWh of electricity, 38m3 of landfill and 19,758 KG of CO2 emissions.

Commenting on this yet another environmental initiative, Lara Haddad, Vice Chairman at touch said, "touch understands the utmost significance of promoting eco-friendly practices, towards a more environmentally conscious society and a greener Lebanon. After all, the environment is a central part of our Corporate Social Responsibility program "Positive touch". The positive environmental impact of our waste management, as indicated by our partner T.E.R.R.E Liban, has been a great motivator for us to move forward. In 2016, we launched an initiative called touch forest through which we planted trees in Anjar and Rachayya Al-Wadi in Bekaa, Ehmej and Tannourine. This constitutes an important example of touch's rigorous efforts to elicit positive environmental change. Being a family of around 700 employees, we strongly believe that we can make a difference. This has been our promise, and we have every intention to further expand our green commitment in the very near future."

Mr. Paul Abi Rached, Founder and President of Terre Liban said: "We are pleased in having touch as our participant through introducing sorting and recycling approaches, Touch has successfully applied the principle of thinking globally and acting locally reflecting a positive touch on both its employees and clients".

Attachments