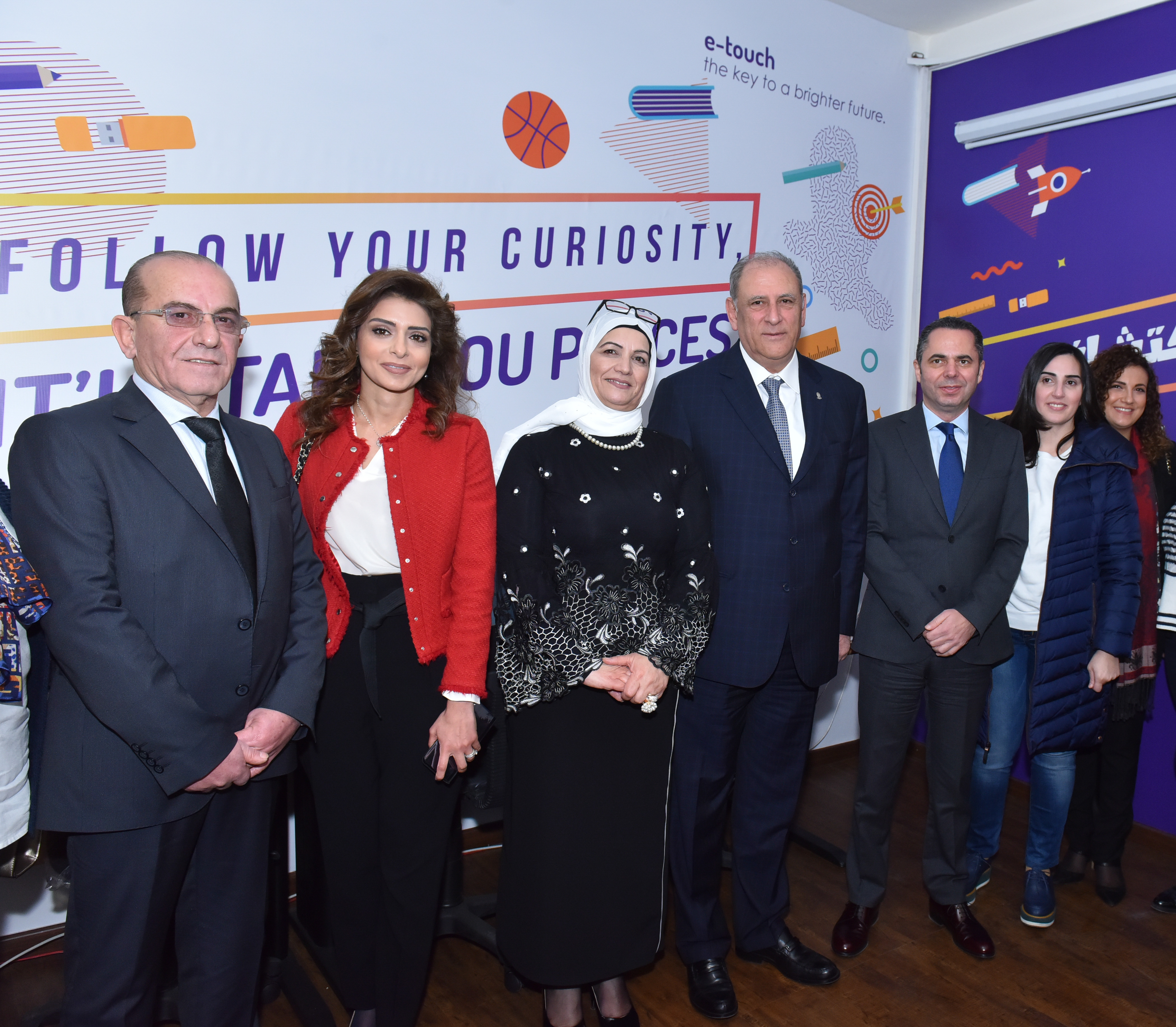 Under the patronage of the Minister of Telecommunications Jamal Jarrah touch and "Teach for Lebanon" launch "e-touch" an educational project for underpriviliged children.
Beirut, January 17, 2018: touch, the leading mobile telecommunications and data operator in Lebanon, managed by Zain Group, has partnered with "Teach for Lebanon" (TFL) for the launch of e-touch, an educational program that aims to support Lebanon's underpriviliged children in rural areas. The project, which forms part of touch's Positive touch Corporate Sustainability program, was officially launched in a ceremony in Béqaa held under the patronage of the Minister of Telecommunications, Jamal Jarrah and in his presence.
e-touch centers are available at the Nader Association for delinquent Enfant Rehabilitation in Deddeh El Koura and at Afaf El Tofl school in El Marj, Béqaa. Touch has equipped each center with 10 networked laptops and the appropriate furniture, giving students access to educational data and information online. "Teach for Lebanon" will also assign fellows in the schools for a period of two years who will teach in the schools and manage the computer labs, teaching new skills to the teachers and ensuring that students receive quality education while developing their talents, critical and creative thinking, teamwork and problem-solving abilities.
Commenting on this partnership, touch Chief Executive Officer Emre Gurkan said, "We applaud the efforts of "Teach for Lebanon", an organization that works to improve the quality of education across Lebanon while assisting underpriviliged children in rural areas. The e-touch initiative is of primary importance to us given its triple focus on disadvantaged members of our community, youth, and education – which are prime areas of significance in our own efforts. The ability to learn and broaden one's horizons has a direct bearing on an individual's prospects for the future, and we believe every single person deserves this opportunity, which ultimately helps to build a more progressive, enlightened society."
The Minister of Telecommunications Jamal Jarrah thanked touch for this initiative and said, "We have to stimulate the minds of our students through the love curiosity and love of knowledge as this is the way to acknowledge what is happening in the world around us. This is the only way to build a society based on culture, knowledge, and communication to make wise decisions. The time has come to provide the young and new generations what our generations were deprived of because they are very promising." He went on to state, "touch is always supportive and ahead in any project that has social attributes or offers aid to people beyond the logical consequences of profit and loss. At the beginning of our collaboration with touch, we decided to delve into community engagement and provide care to the Lebanese society. And this collaboration that exists today among the different stakeholders of the civil society that are Teach for Lebanon, touch, and the Ministry of Telecommunications is the best example of how all components of a supportive community can contribute to improving the living conditions in this society."
Salyne El Samarany, Chief Executive Officer of Teach For Lebanon said: "The world of innovation we live in invites us to better prepare our students for the 21st century job market requirements of technology and e-literacy skills. For that, we at Teach For Lebanon, are grateful for touch for helping us have the needed tools to provide quality education for our students".
touch is investing heavily in education-related activities aimed at equipping future generations with the finest tools for both personal and societal development, in line with touch's digital transformation journey.
"Teach for Lebanon", is a NGO based in Lebanon that began operating in 2008. Since then it has provided quality education for less privileged children in Lebanon. The organization employs, trains and places Lebanon's leading graduates in under-resourced schools to help improve the lives of those who are in most need of care, guidance, role models, and effective teachers.
The ambitious fresh graduates in the program, fellows, are from various academic backgrounds and serve as full-time teachers, leaders, community ambassadors and life-coaches in assignments lasting two consecutive years.
Attachments