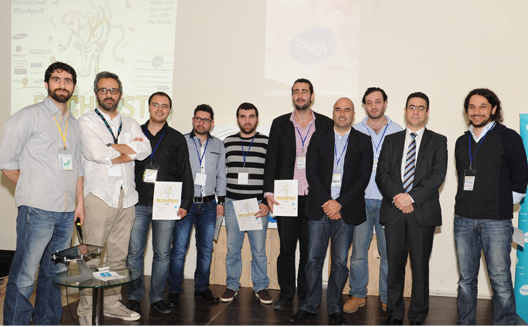 Beirut, 11 April 2013: In testament to touch cloud's continuous support to Lebanon's mobile app ecosystem, the DevAppLB PitchFest, an exciting apps contest, took place at AltCity Hamra, under the auspices and in the presence of HE Telecom Minister, Nicolas Sehnaoui. The PitchFest featured 10 mobile app startups in front of a panel of entrepreneurs, mobile app experts and investors. The top 3 winners won $5000 of startup cash support, technical support from touch and Apstrata, 3 months of incubation support from AltCity, and many other prizes.

Since the launching of touch cloud by the leading mobile telecom operator in Lebanon, touch, in December 2012, hundreds of Lebanese people have taken part in workshops covering the whole mobile app development ecosystem, including mobile app programming (on iOS, Android, and HTML5), app design, ideation, and business and user trends.

"At touch, we are really committed to developers and to bringing more apps to the region. I am here to reconfirm our 3 fold strategy of building apps or an app cloud to help customers pick up their apps from the market. We have also opened our network when it comes to API for operator billing to help developers monetize what they have built. I want to take this opportunity to thank the ministry of telecommunications who have supported this program, the judges and all the partners involved, AltCity, Apstrata, and definitely the developers" said Nadim Khater, Chief Commercial Officer at touch.

"For the past year and a half, we have been focusing on the infrastructure. You have already seen part of the results, and a large part is yet to come. We have prioritized the ecosystem, but it still needs more time and effort. The next effort will go into finishing the ecosystem project – part of them being the financing and the other being the education. This will be the title of the next phase should I have enough time. You are the future of the Lebanese economy" stated Telecom Minister, Nicolas Sehnaoui.