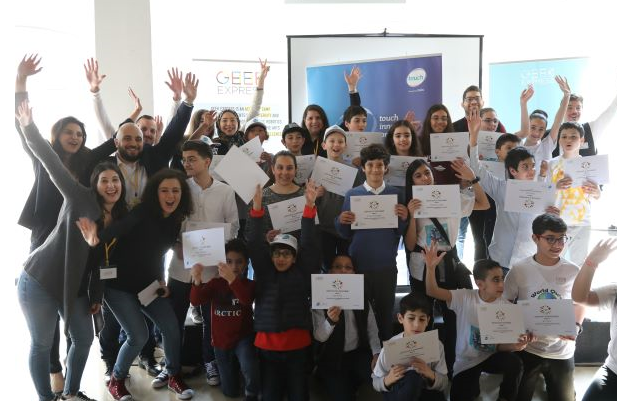 touch partners with Geek Express for the region's first AppJamming Summit.
Beirut - March 4, 2019: touch, the leading mobile telecommunications and data operator in Lebanon, managed by Zain Group, partnered with Geek Express to host the AppJamming Summit (AJS) semi-final competition on February 24th 2019 held at Antwork, Hamra. The competition was attended by 40 participants, joined by a jury that included judges from touch, Geek Express and experts, in addition to renowned tech enthusiasts and educators, and the participants' parents.
AJS (Beirut) was the first App Development competition in the MENA region that has witnessed some of the most impressive talent among its young participants, whose ages range from 8 to 16 years old. The common thread between all the apps presented at the semi-finals was the topic of "culture": How an application can bring people from different backgrounds and experiences together in celebration of their divergent cultures.
The competition started with groups gathered at Antwork to set up their projects and add their final touches. The teams consisted of 1-3 participants each where they submitted their final pitch of their app idea, design, and the codes, which make up the customized application. Presentations covered both technical and conceptual aspects of their applications in front of a jury. All teams were judged by the quality of their codes, relevance and interface of their application, and the teams' presentation skills.
Nadim Khater, Chief Commercial Officer at touch said, "coding is essential and a core skill for today's youth that have much talent, creativity, skills, and digital appetite to disrupt and generate new business models. The AJS competition is a great opportunity to not only showcase ideas, but a chance to learn, get inspired, empowered, and prepare them for their future careers."
Manal Hakim, CEO and Founder of Geek Express said, "At Geek Express, our aim is to empower and enable young minds. We believe the best way to do it is by teaching them how to code. We want to see them engaged as creators of technology rather than passive users. Youth should be able to design their own app, not only use it. Awareness on the urgency and importance of coding, technology in general, and STEM learning is our priority. For this purpose, a lineup of STEM related hackathons, competitions, and edu-tech activities will take place at Geek Express, both locally and regionally throughout the year."
The winning team received a trip to Hong Kong, where they will present their application at the finale for the chance to win a sponsored trip to MIT, Boston. Some of the app ideas included a multiple-choice quiz, related to fun facts and information about different cultures, and a language translator facilitating communication between people from different countries and cultures.
Attachments