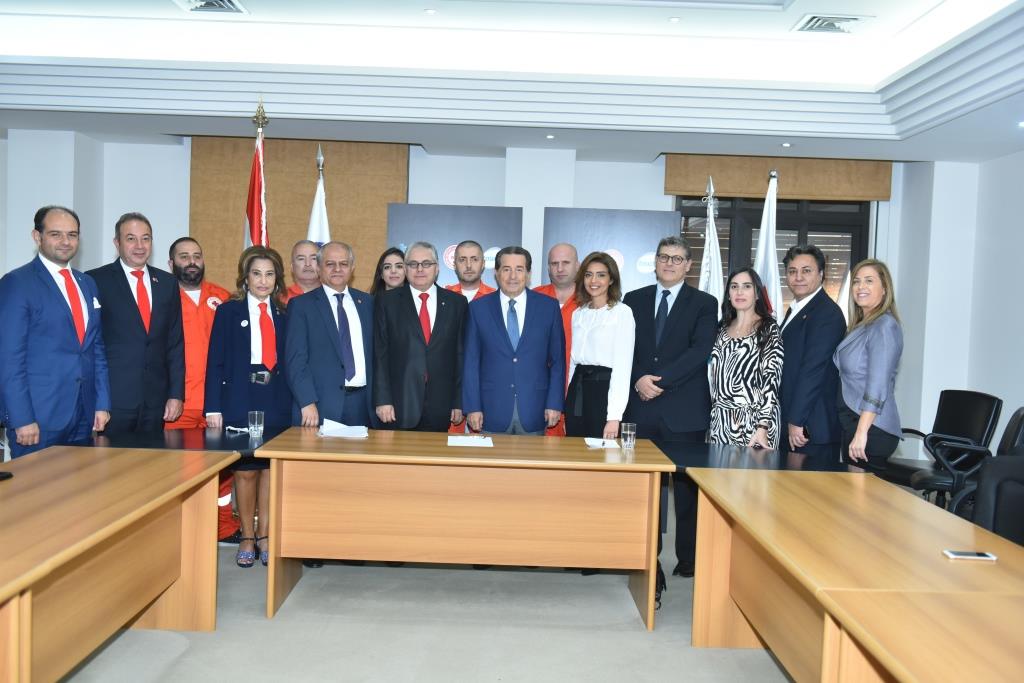 Under the patronage of the Minister of Telecommunications Boutros Harb
touch announces its supporting plan for the Lebanese Red Cross
Beirut, October 21, 2016: touch, the leading mobile telecommunications and data operator, managed by Zain, announced today its supporting plan for the Lebanese Red Cross in a press conference held at the Telecommunications Ministry in the presence and under the patronage of His Excellency Minister of Telecommunications Boutros Harb, and with the participation of Lebanese Red Cross leaders and touch and ministry officials.
touch offered the Lebanese Red Cross 120 closed network lines to be used by their Emergency Medical Services leaders, like heads of districts, stations, and operation rooms in order for them to stay connected at all times. These lines create a powerful network that will keep ambulances constantly linked to operation rooms, without any hindrances or obstacles. It will also ensure that all users involved are in line and mutually informed every step of the way. This supporting plan stems from touch's core business, covering the volunteer's communication expenses for a whole year.
The lines themselves are designed to allow better and more seamless flow of vital information to and from the main actors in the Emergency Medical Services' system both for regular missions and in times of crisis. This will allow them to stay in touch around the clock and take emergency requests faster. This ultimately constitutes an important means of empowering those volunteers who have dedicated their lives to save others.
Harb In his speech, HE Telecommunications Minister Boutros Harb praised the role of the Lebanese Red Cross, he said: "I would like to welcome you all here today, especially the Lebanese Red Cross, which has made a home in the hearts of all the Lebanese people. We are all indebted to them for all the outstanding health care and humanitarian services they provide, without getting anything in return. The mere presence of the Red Cross in Lebanon is a trophy for Lebanon and the Lebanese people". He then addressed the head of the Red Cross and his team saying, "You have done so much for us all, and I would like to thank you for it. For that reason, touch, in collaboration with the Ministry of telecommunications embarked on this mission of providing you with a solid supporting plan, which includes the provision of telephone services to all the volunteers at the Red Cross for a full year. This will surely facilitates your work, saves on expenses, and constitutes a contribution by the Lebanese state with its own money, keeping in mind that, at the end of the day, corporate funds are state funds. Therefore, touch's contribution is in recognition of your grand and significant role in Lebanese society. Today I announce the launch of this service, which will benefit Lebanese citizens, especially in our days with the pressing need for even the slightest glimpse of hope and a sense of humanity".
Haddad In her speech, Lara Haddad, Vice Chairman of touch, representing Mr. Bader A Kharafi, touch Chairman, addressed the members of the Lebanese Red Cross saying, "We understand the many ways in which communication is at the heart of the Lebanese Red Cross and its daily functionality. In this context touch's support, with the collaboration of the Ministry of Telecommunications, comes to ensure that you can all be in constant contact with one another, especially during emergencies and in operation rooms where you are relentlessly taking calls despite all difficulties and against all odds. You have made it your life's mission to reach patients the soonest possible in order to save their lives and redirect their fates and that of their families and loved ones. touch's support for the Lebanese Red Cross stems from its Corporate Social Responsibility Program Positive touch, in recognition of your efforts as well as its understanding of the importance of having no barrier or obstacle standing in the way or delaying your lifesaving mission."
Al Zoghbi In his speech, the President of the Lebanese Red Cross Dr. Antoine AL Zoghbi said, "This project supports the Lebanese Red Cross by brilliantly linking ambulances with operation rooms using internal lines. This is far larger than just a telecommunications network, it is a constructive contribution to health security management and constitutes a step in the right path for the Lebanese Red Cross and its strategy to enhance and develop internal communication between operation rooms, centers, leaders and volunteers on the ground. This strategy has made telecommunication one of the fundamentals of the Red Cross's lifesaving mission and the first pillar in the ambulance system. "
Attachments