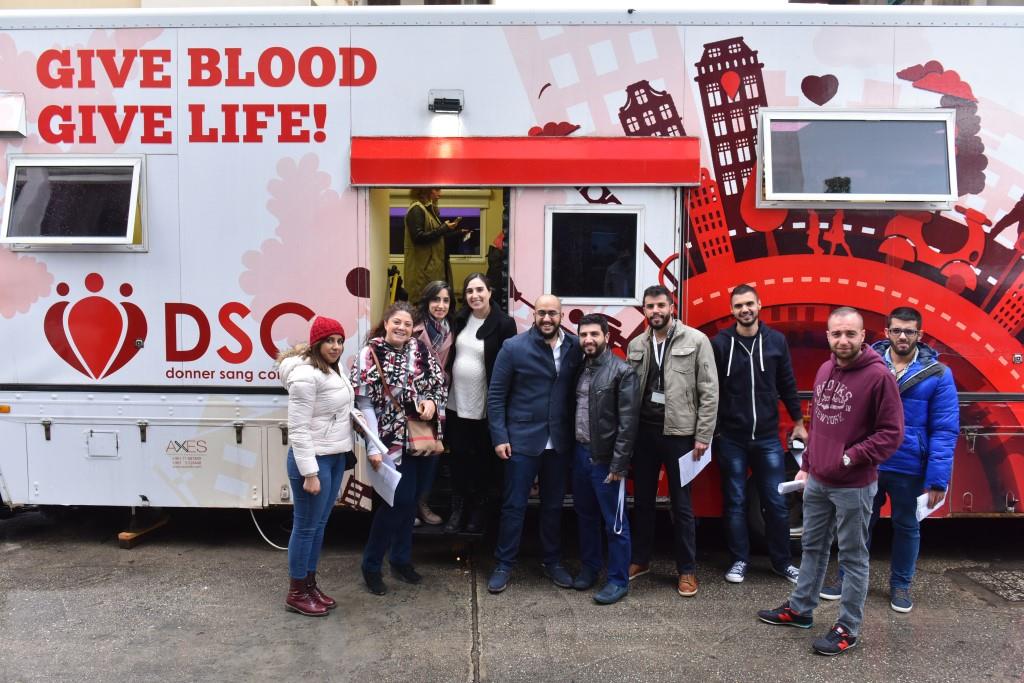 A Joint initiative brings together touch and Donner Sang Compter to Raise Awareness about Blood Donation.
15 "blood drives" to benefit 1800 patients in need of blood.
Beirut, January 11, 2017: touch, the leading mobile provider in Lebanon, managed by Zain Group, partnered with Donner Sang Compter (DSC), a Lebanese Non-Governmental Organization that tackles the blood donation issue, and launched a joint Corporate Social Responsibility campaign "دمّك اغلى هدية" for the month of December, aiming to raise awareness about the importance of blood donation.
Until this day, human blood has had no substitute and constitutes the most precious gift of all. Especially to those who desperately need it, blood is a gift of life. Blood banks in Lebanon suffer from constant shortages in terms of blood stocks, and patients' families have to search for donors to secure the needed components for treatments/surgeries. A "Blood Drive" is the concept of transporting all needed equipment and personnel to conduct blood donation campaigns outside the blood banks. Such activity gives the chance for people to voluntarily donate their blood at public locations under safe conditions, and consequently raise the stocks of blood at local blood banks. For that reason, touch and Donner Sang Compter hosted 15 blood drives which were conducted throughout the month of December in partnership with 10 blood banks, where people were encouraged to donate voluntarily their blood and become regular blood donors. This went a long way in increasing the supply of blood units which are immensely needed to cater to Lebanese society's yearly demand.
Involving its own staff as part of its internal volunteering program, the kickoff event took place at touch headquarters to resume throughout the month of December in various locations including City Mall Dora, Beirut Souks, USJ – North Campus and Beit El Fan in Tripoli. These were done in collaboration with 10 hospitals including the American University of Beirut's Medical Center, Centre Hospitalier du Nord, Hopital Haykel, Hotel-Dieu de France, Chronic Care Center, Bellevue Medical Center, Lebanese Canadian Hospital, Keserwan Medical Center/Centre Hospitalier du Nord, Centre Hospitalier De Bhannes and Al Zahraa University Hospital.
Commenting on this campaign, Lara Haddad, Vice Chairman at touch, said, "The main objective of this project is to promote positive citizenship through our CSR program "Positive touch". The program works towards fostering a healthy society as well as a culture of shared values. We congratulate DSC on their outstanding efforts in raising a culture of blood donation in Lebanon. After all, blood and blood elements play a central role in everyday medical care especially in major surgeries and critical life-saving procedures."
Yorgui Teyrouz, the founder and president of DSC, acknowledges that "such collaborations contribute towards achieving the vision of responsible citizenship, where voluntary blood donation becomes part of our culture. Similar to the initiative taken by touch, we encourage both private and public sectors to play big influential roles in raising awareness about this forgotten cause".
The 15 scheduled blood drives, which took place between the 13th till the 30th of December, welcomed thousands of visitors and collected remarkable number of blood units. Every blood unit is processed and divided into three components. Since each component can help a different patient, the total number of direct beneficiaries was 1800 patients, a mind blowing achievement this holidays' season.
Attachments