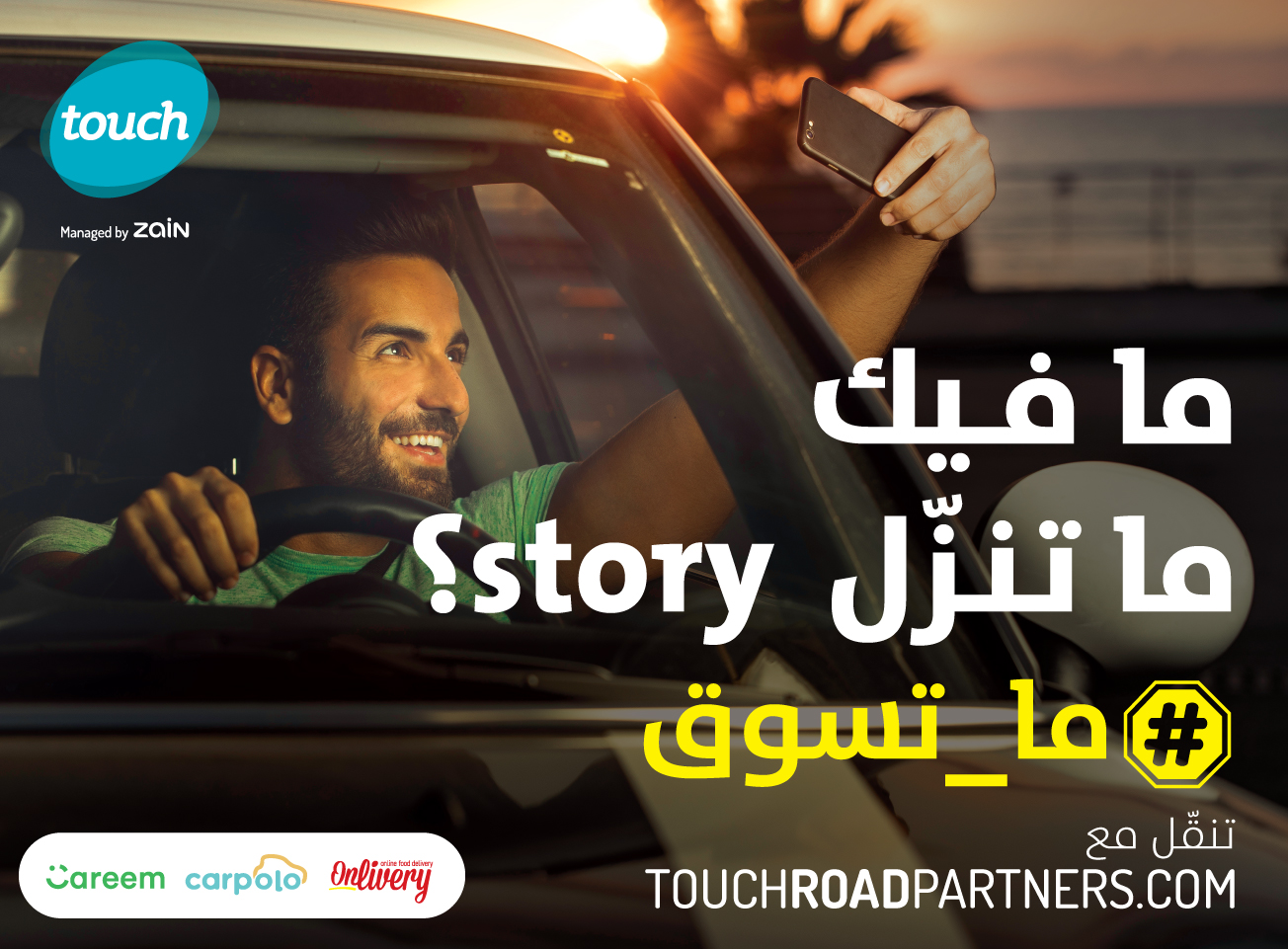 touch launches road safety campaign, "DON'T DRIVE" the company collaborates with digital startups Careem, Carpolo and Onlivery to provide special offers and rewards as alternative to driving.
Beirut, October 26, 2017: touch, the leading mobile telecommunications and data operator in Lebanon, managed by Zain Group, has launched an innovative road safety campaign 'Don't Drive', as part of its Corporate Sustainability and Social Responsibility program, 'Positive touch'.
Many find the small screen they are holding in their hands to be much more interesting than what is going on around them. But behind the wheel, it is a recipe for disaster. However, urging people to stop texting and driving hasn't made enough of a difference, so touch is suggesting to the general public to text, WhatsApp, post, snap, tweet, share, like, react, send voice notes, and stream their heart out… but just #DontDrive.
According to the Traffic Management Center, to date there have been a total of 2,884 car accidents reported in Lebanon this year, 3,863 injuries and 407 fatalities. While this constitutes a significant improvement on last year's 4,337 reported car accidents, more still needs to be done. Conscious of this, touch, in collaboration with fast-growing digital startups Careem, Carpolo and Onlivery introduced the 'Don't Drive' initiative, offering drivers who insist on using their mobile phones while driving a choice of alternative transportation solutions, with special offers and rewards.
The campaign launching the initiative highlights the different kinds of people who continue to text and drive. Whether you are the king of likes or a serial emailer touch is urging drivers to get onboard the #DontDrive initiative and give the touchroadpartners.com a try. To view the campaign visit: www.youtube.com/touchlebanon
Commenting on the campaign, touch CEO, Emre Gurkan said, "touch's 'Don't drive' campaign is an important translation of our aspiration to create tangible positive change by raising awareness of road safety. We sincerely ask all Lebanese citizens, especially young people, not to drive should they be interacting with their mobile phones, and instead choose the right seat."
Through this initiative touch is also supporting the regional digital ecosystem and Lebanese startup entrepreneurs. Careem is a leading regional app offering chauffeur driven car booking service, that has recently expanded its service in Lebanon. Onlivery is Lebanon's leading online food deliver platform with more than 600 restaurants connecting hungry diners all across the nation. Carpolo is a smart carpooling platform with a gamified points reward system and analytics tools to promote carpooling for communities. Through parent company Zain Group, touch previously supported Carpolo, which came in second in the social entrepreneurship track of the 10th edition of the MIT Arab Startup Competition organized by The MIT Enterprise Forum (MIT EF) of the Pan Arab Region this year.
Click here to view all related videos.
Attachments