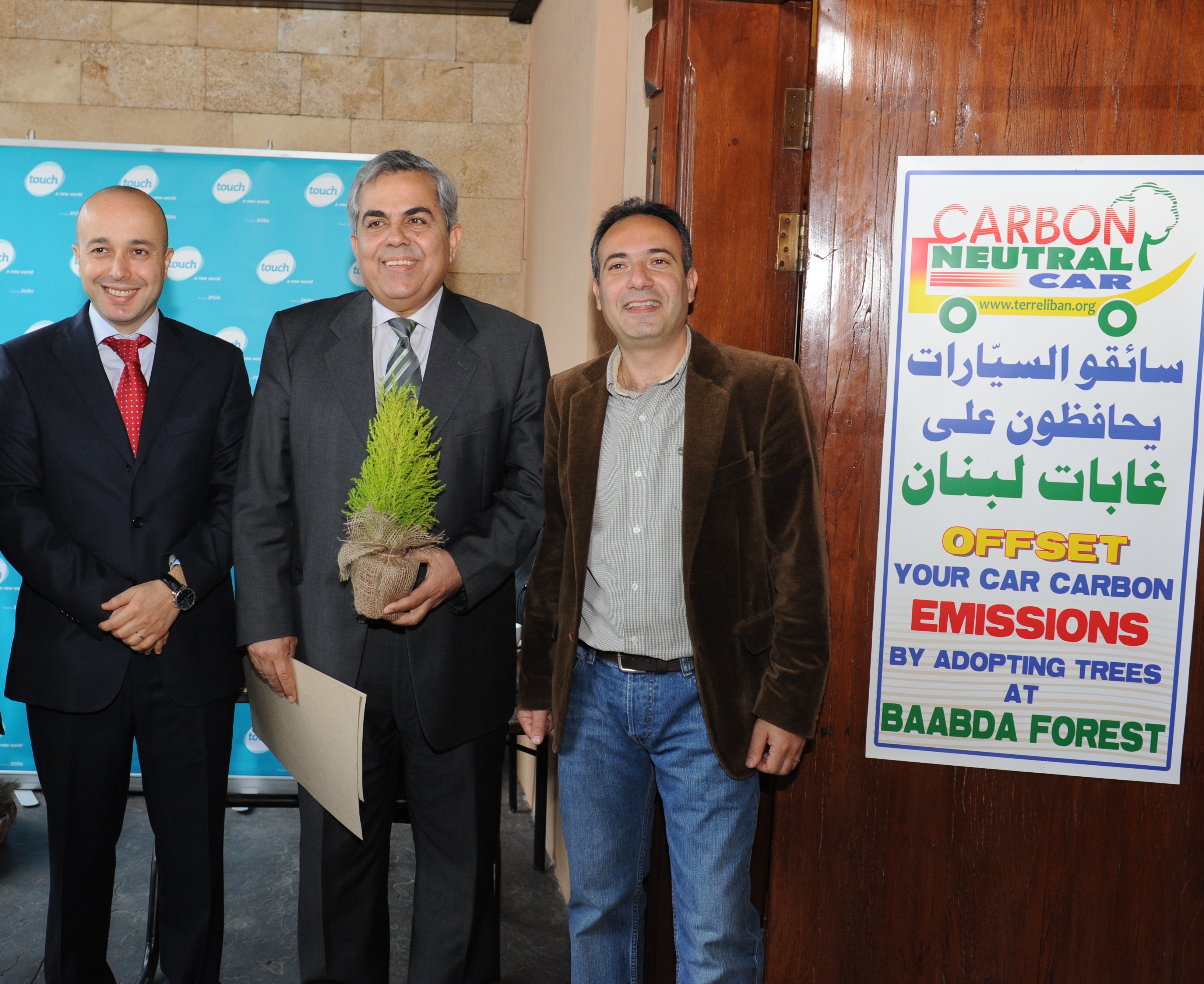 Beirut, December 4, 2013: Under the auspices of the Minister of Telecommunications, Nicolas Sehanoui represented by the Member of Parliament (MP) Hikmat Dib, touch, the leading mobile operator managed by Zain, announced its commitment to the Carbon Neutral Car project in partnership with T.E.R.R.E Liban during a press conference that took place in Karawan restaurant on Wednesday December 4th.
 
This project directly aims to offset the carbon emitted by the company cars during 2013 by protecting mature trees that absorb carbon dioxide produced by cars. As a result of this project and in collaboration with T.E.R.R.E Liban, touch protected 13,246 forest trees in the Baabda forest, the closest forestation to Beirut with the purpose of offsetting 250 tons of CO2.
 
During his speech, the Chief Financial Officer (CFO) at touch, Dr. Charbel Cordahi, stated "This project is the first of its kind in Lebanon and the region and is aligned with the ongoing international activities and the corporate responsibility to achieve environmental sustainability by compensating for the carbon emissions. This initiative is also aligned with our daily routine which applies our social sustainability policy."
 
He continued, "touch witnessed an incremental growth during the past few years which has positively impacted its clientele base and network. In parallel, it also worked on controlling the negative outcome by adopting a complete operation to protect the environment such as alternative sources of energy to feed transmission stations and signing an agreement with T.E.R.R.E Liban for waste management and recycling which raises funds for the protection of the Baadbda forest. The company has also adopted a green policy upon the purchase of any product especially during the production of recharge cards thanks to our work with the "L'Ecoute" NGO which focuses on properly disposing ink containers and recycling them to create hearing aids for the less fortunate."
 
Within the same regards, the founder and president of T.E.R.R.E Liban, Mr. Paul Abi Rached, congratulated touch for their "Carbon Neutral Car" project hoping to motivate the rest of the companies in the private sector to adopt the same strategy of compensating for the Carbon resulting from their various commercial activities while protecting the remaining green spaces that are threatened, now more than ever, by random fires, chopping and urbanism." He also reminded that the project came as a continuation for the previous environmental programs launched by touch namely waste sorting and recycling.
 
From his side, the Deputy Hikmat Deeb representing the Minister of Telecommunications, Nicolas Sehnaoui, clarified "The Baadbda region in general is one of the most beautiful areas in Lebanon as it maintained its natural diversity and richness, and this can be seen in the "Rehban" (Monks) forest reserve in Baadba which is protected by the Antonine Sisters. The people responsible for the protection of the environment are the ones who are destroying it and are following practices that harm the natural environmental balance. For this reason, we see that every person in society needs to play an active role in preventing any activity that hinders the natural diversity and needs to report any aggression towards it. The project that touch and T.E.R.R.E Liban are pursuing sends a beacon of hope in the protection of the green areas available in Lebanon."

 
Attachments