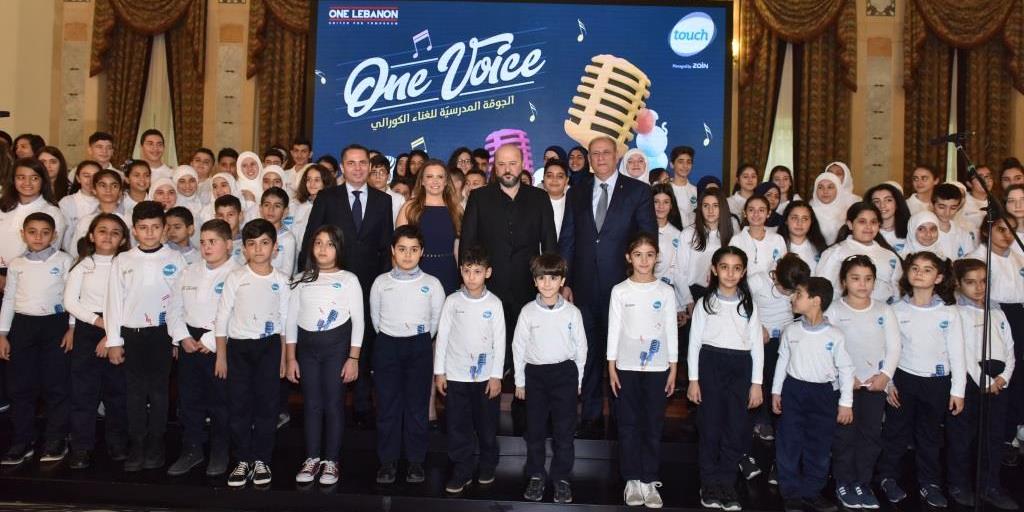 Under the patronage of Prime Minister Saad Hariri, ONE LEBANON and touch extend cultural activities to the reach of youth in public schools.
Beirut - December 5, 2018: touch, the leading mobile telecommunications and data operator in Lebanon, managed by Zain Group, has partnered with ONE LEBANON to introduce the One Voice initiative led by ONE LEBANON Founder and President Tania Kassis and its Academy professional choir teachers. The project seeks to provide professional choir sessions to students with no access to music in four public schools in Beirut.
One Voice was officially launched at an event held at the Grand Serail, under the patronage of Prime Minister of Lebanon Saad Hariri that was represented by Minister of Telecommunications Jamal Jarrah, in the presence of Minister of Information Melhem Riachy, many ambassadors, ONE LEBANON Founder and President Tania Kassis, touch Chief Executive Officer Emre Gurkan, ONE LEBANON public figures supporters such as singers Anthony Touma and Nicolas el Osta, as well as ONE LEBANON board members and volunteers.
President Riad el Solh Secondary School, Gebran Ghassan Tueni Secondary School, Chiah mixed English School and Martyr Abdel Karim Khalil English middle school are the four public schools representing Beirut's confessional diversity that were selected to participate in the program. Students selected are being provided with one-hour choir sessions on a weekly basis during school hours all along the 2018/2019 academic year. The four groups comprise an average of 30 students per group where two groups are allocated to ages 7-13 years and two groups are allocated to 13-16 year-olds. This partnership, in collaboration with the Ministry of Education, is fundamental to providing youth in Lebanon with innovative and fun ways to learn.
ONE LEBANON's goal being to initiate, develop and support projects that encourage citizens to live together harmoniously in a peaceful Lebanon, it seeks to promote through this project respect for diversity, both individual and collective, and seeks to uphold ethical integrity among the Lebanese Youth.
The Minister of Telecommunications Jamal Jarrah began by thanking Tania Kassis for this valuable initiative and said, "We hope to accomplish a one voice in Lebanon through an initiative like One Voice in the face of sedition and a unified voice with freedom, sovereignty, and independence of this country in the face of everything that is distant from Lebanon. Our job is not to only sing, but to try and transform our case into a word and repeat it and spread it with one voice for one Lebanon". He added that this initiative takes more than one direction. First off, the children belong to public schools where Ms. Kassis spreads the importance of a formal education. The second direction as the late Prime Minister Rafic Hariri used to say, this country can progress and develop through science and culture". Jarrah confirmed that the event touch sponsored today is the right path that leads to a healthy and productive society in Lebanon".
Jarrah went on to say that we have generation of creators and innovators, that need the country to stand by them, support their talents and help them, from which they can lead the way on their own. To conclude, Jarrah explained that they have set up an investment fund to help startups under the guidance of the Prime Minister Saad Hariri, to nurture their talents and urge them to stay in the country. He called onto the Ministry of Education and the Lebanese government to add computer classes to the curricula as well as singing and music, in order to build an emotionally and socially balanced generation that has the capacity to innovate, produce, and move away from the negativity that hinders their development".
The Minister of Information, Melhem Riachi acknowledged Tania Kassis and the participating children for their efforts to install joy in the heart of the Lebanese citizens. He said: "These children are the true essence of the country that we dream about and wish that our children and grandchildren can live and experience it, especially for the sake of our mothers and grandfathers who died for this country to remain, develop, and live on."
Founder and President of ONE LEBANON Tania Kassis commented, after exposing all the psychological and health benefits of group singing "Science is proving that we bond best when we are making music with each other. Singing in a group offers us a sense of belonging to something bigger than ourselves. It helps us feel that we are needed by the larger community and prepare the youth to become agents of change. It also certainly involves cooperation as well, and cooperation increases trust between individuals and increases one's chances of future cooperation, which are important factors in human evolutionary success and societal stability.
I deeply believe that this initiative will have a very positive impact on the kids and teens that we will target, as it will bring different people together, overcoming differences while giving them a good music education. This activity can become a real passion to many of them and will help us discover great talents and also prepare potential artists or music teachers."
Emre Gurkan, Chief Executive Officer of touch commented, "One Voice is a high-profile initiative tailored to young people in Lebanon, who are the country's future and possess the potential to express themselves in extremely creative ways. Our partnership with ONE LEBANON and Tania Kassis Academy is an earnest attempt to provide children from different backgrounds with the same opportunity to express themselves to the best of their ability in a nurturing environment, regardless of their social and economic situation. Along with ONE LEBANON we shall continue to expand One Voice partnership, paving the way to a sustainable cultural experience for young people across Lebanon."
After the speeches, around 120 students from the four selected public schools offered a small performance of four meaningful songs. The performance ended with Tania Kassis joining the One Voice choir on stage to sing together her hit song "Trabak Ya Lebnan" written and composed for her by Elias Rahbani.
Tania Kassis Academy, supervised by Tania Kassis herself, offers a unique opportunity for students from all ages and backgrounds to perform in various concerts and TV shows with other established artists. The youth also has the opportunity to join bands, record in professional studios, and be exposed to a wider audience.
The One Voice project falls under the education focus of touch's Corporate Sustainability program, Positive touch, where the driving belief is that every child deserves a decent education and access to arts and culture in a bid to receive a well-rounded education. This view is also in-sync with the United Nations' Sustainable Development Goal number four, which relates to ensuring inclusive and equitable quality education and promotes life-long learning opportunities for all.
Attachments