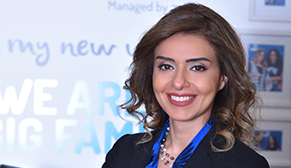 Lara Haddad - Chief Communication Officer

Lara Haddad was appointed Chief Communications Officer of touch, effective April 2017. As part of touch's executive management team, Lara oversees all the operator's strategic Corporate, Digital, and Internal Communications, Sponsorships and Event Management as well as Corporate Sustainability initiatives. Prior to this appointment, between May 2016 and March 2017, Lara served as the Vice-Chairman of touch's board, and today continues as a Board Member of touch.

Lara joined Zain Group in 2009. During her eight years there, she played a key role in the implementation of the many strategic programs within the Group's Corporate Communications and Investor Relation's department that placed the multi-award-winning Zain brand on the global telecom map.

With a BA in Advertising and Marketing and a Master's degree in Media Studies from Notre Dame University, Lebanon, Lara started off her career in the advertising field with a leading Lebanon based agency where she managed a portfolio of major accounts from the FMCG, Retail, Banking, Insurance, Telecom and Industrial sectors.